Why use Enhanced Verification for documents?
As part of your KYC checks, it's likely that you will be requesting a selection of documents such as a passport or driving licence. While having a document uploaded for you to view is convenient, knowing that the document is genuine can be a challenge, especially if you're unsure what to check.
This is where enhanced verification comes in.
Requesting the documents
To request the documents you need to use a "Photographic Identification (Enhanced)" check. This works differently from your usual document upload as it requests details about the document itself to ensure the right checks are carried out.
Clients have an option to select one of 3 document types:
UK Driving Licence
UK Passport
Identity Card
With some documents, the user would be requested for both sides to verify it correctly.
What checks are carried out?
We check for 6 key types of document fraud:
Forged documents
Counterfeit documents
Blank stolen documents
Fantasy or camouflage documents
Imposter or "lookalike" documents
Compromised documents
A streamlined process helps identify issues with the document and highlight these for you.
How to perform a document verification check
Adding the check
Firstly you will need to add a "Photographic Identity (Enhanced) check" to an associated person.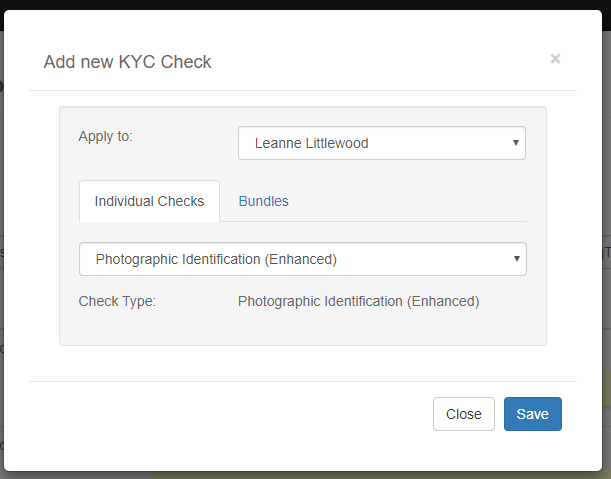 When you send your checks to your client, they will be prompted to upload images relating to the document they select.
Client portal flow
The flow starts with selecting the type of document which can be any of the ones supported by ML Verify. By default, we preselect "Passport", but this can be changed at this stage.
Your client can then proceed to upload images of the front (and if relevant, rear) of the document.
All document images must be:
fully visible (e.g. not covered)
clear (not blurry)
show the full document
Once the user has completed this, they can send the document for review, at which point, we will notify you by email.
Completing the check
To complete the check, view the list of KYC checks and click the "Enhanced Verification" option.

This can take a few minutes to complete but will continue to run in the background.
Once the check has been completed, you will be presented with a PDF document with a breakdown of the various checks, and their outcome.
How much does a document verification check cost?
Each check costs £1.50 + VAT which will be deducted from your account balance.