We're always taking on-board user feedback and trying to make your lives easier when it comes to AML compliance. Here's a round up of our latest updates.
Suspicious Activity Reports (SAR) Disclosures
Keeping track of SAR disclosures has just become easier.
Now you can keep a log of your SAR disclosures within your account, logging any notes, which client they apply to, and any related KYC checks.
Send KYC links by SMS
We've made it easier for you to send KYC checks to your client's phones with a new SMS option.
When you send the KYC link, select "Send by SMS" and enter a mobile number - either one for all checks, or one for each individual.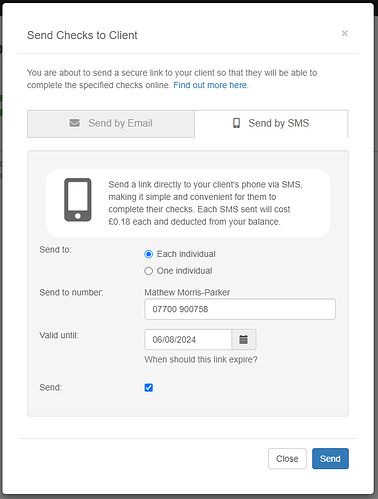 Email Archive
Any emails sent from your account are now stored for you to review and refer back to.
Find this under Reports >> Email Archive
More coming soon
Keep an eye on our Announcements section of our community forum for more updates, soon.