There may come a time where you'll have to submit a Suspicious Activity Report (SAR) to the National Crime Agency. We've just made it easier to help you record these.
What is an SAR?
According to the National Crime Agency -
Suspicious Activity Reports (SARs) alert law enforcement to potential instances of money laundering or terrorist financing. SARs are made by financial institutions and other professionals such as solicitors, accountants and estate agents and are a vital source of intelligence not only on economic crime but on a wide range of criminal activity. They provide information and intelligence from the private sector that would otherwise not be visible to law enforcement
Typically, you would log an SAR if you suspect (or know) someone is involved with, or attempting to become involved with, money laundering or terrorist financing.
This could be evidenced by a supplied document, which may, for example, even be falsified or edited, in order to by-pass or fraudulently complete your KYC checks.
Who has to submit SARs?
For those in regulated sectors, you are required to submit a SAR under Part 7 of the Proceeds of Crime Act 2002 (POCA) and the Terrorism Act 2000, if you should suspect the individual you are dealing with is potentially involved with money laundering of terrorist financing.
Those not in a regulated sector may be required to submit a SAR, and it may even be considered as you committing an offence if you're aware or suspect money laundering activity.
You can read more about SARs on the National Crime Agency Website.
Logging a new SAR
Logging a SAR in ML Verify is simple.
Start by viewing the client you wish to record the SAR for. You don't need to wait until after you've submitted everything to the National Crime Agency - you can do it before and amend the record on ML Verify afterwards.
You will find a "Tools" menu in the top right corner. Clicking this will reveal an option to log an SAR Disclosure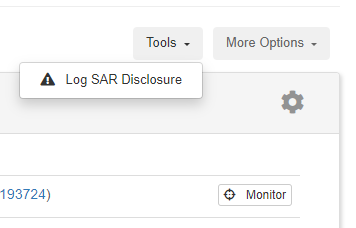 You will be presented with a form which allows you to log a few details, including:
Your own reference
The URN supplied by NCA (if it's been submitted)
The individual(s) it applies to
Any notes
What, if any, KYC checks it relates to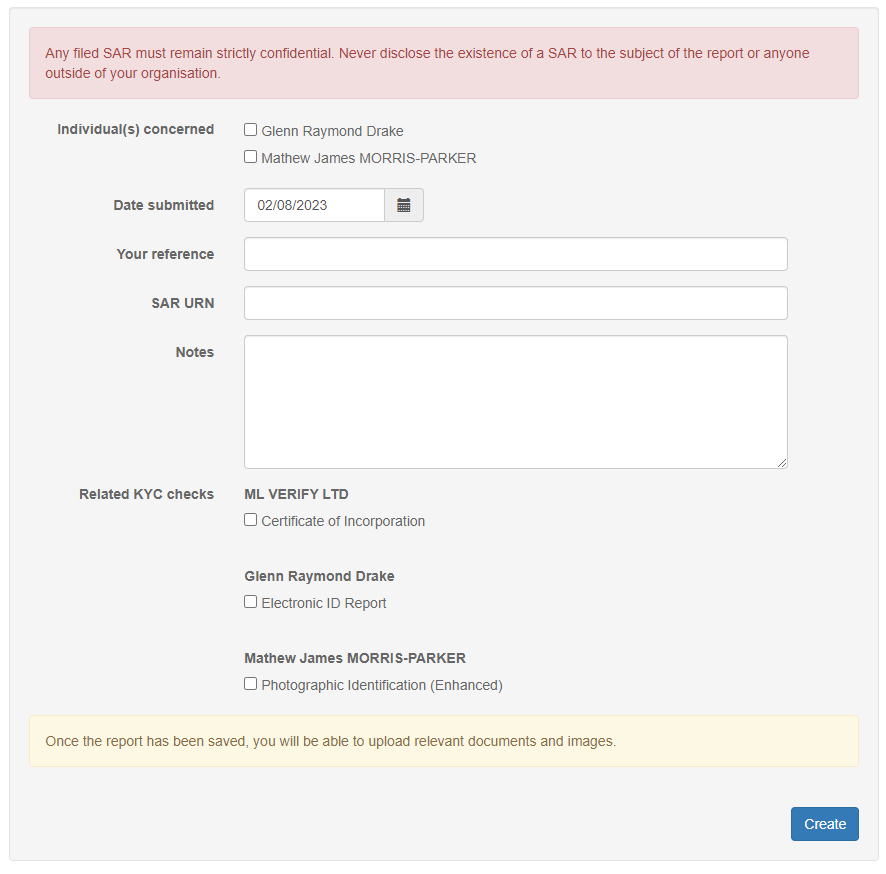 Once it's saved, you can add additional files if required.
Viewing all SARs
You will find a "Suspicious Activity Report" option under "Reports" in your left hand menu.
This will list all reports and allow you to search and filter based on date range and client, too.